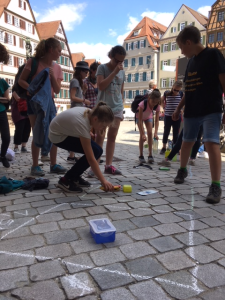 Öffentliche Stadtrundgänge 2023
Altstadtrundgang: 06. Mai 2023 um 14 Uhr, Treffpunkt beim Stiftskirchenbrunnen
Südstadtrundgang: 07. Oktober 2023 um 14 Uhr, Treffpunkt am Haupteingang der vhs
Diese öffentlichen Stadtrundgänge sind eine Veranstaltung von Weltbewusst Tübingen unter Mitwirkung von Act for Animals e. V. sowie in Kooperation mit dem Weltladen Tübingen und der Volkshochschule Tübingen.
Anmeldungen nur über die vhs (den konsumkritischen Stadtrundgang findet man über die Kurssuche). Ab fünf Anmeldungen finden die Rundgänge statt.
Private Rundgangsanfragen an: bildung[at]weltladen-tuebingen[dot]de
Bei Unwetter werden die Rundgänge abgesagt.
Wir und unsere Stadtrundgänge
Wie wirkt sich unser Wohlstand auf andere Teile der Welt aus? Wie viele Ressourcen verbrauche ich täglich? Was hat Tübingen zwecks Nachhaltigkeit zu bieten? In unseren Konsumkritischen Stadtspaziergängen gehen wir diesen Fragen auf interaktive Art und Weise nach.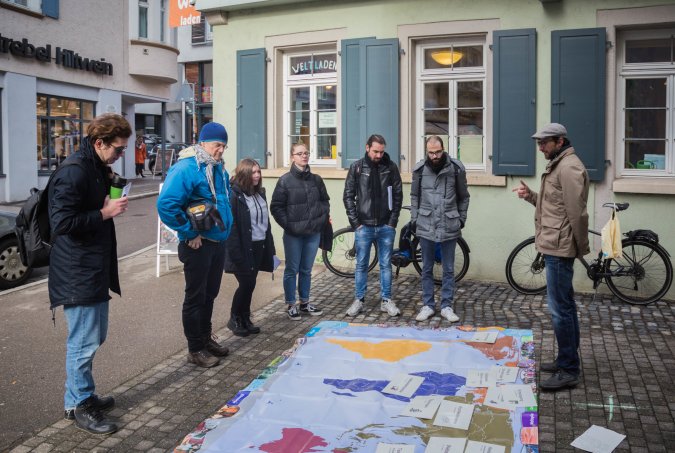 An unterschiedlichen thematischen Stationen sprechen wir beispielsweise über CO2, virtuelles Wasser oder Smartphones und fragen nach sozialökologischen Auswirkungen. Interaktive Methoden veranschaulichen die verschiedenen Aspekte, Mythen und Vorurteile werden aufgeklärt. Gleichzeitig weisen wir auf nachhaltige Alternativen in Tübingen hin, wie etwa das verpackungsfreie Einkaufen oder Second-Hand-Läden.
Wichtig ist für uns, neben dem Kritisieren vor allem auch Alternativen aufzuzeigen. Durch spannende Fragen und Diskussionen regen wir die Teilnehmer*innen dazu an, das eigene Konsumverhalten konstruktiv zu hinterfragen – kontroverse Standpunkte sind erwünscht. Ziel ist es, in den 90 Minuten Denkanstöße zu geben und sich gegenseitig zu möglichen Handlungsalternativen anzuregen.
Die Rundgänge finden jeden ersten Samstag im Monat oder auf Anfrage ab 5 Teilnehmer*innen statt. Für Schüler*innen kann der Rundgang angepasst werden. Anfragen gerne per Mail an bildung[at]weltladen-tuebingen[dot]de
Die Gruppe Weltbewusst ist auch auf Instagram zu finden: @weltbewussttuebingen.
Wir und unser Team
Du hast Lust, mitzuwirken? Wir treffen uns jeden 2. und 4. Mittwoch im Monat um 19 Uhr. Schreibe uns gerne an bildung[at]weltladen-tuebingen[dot]de
Wir und die BUNDjugend
WELTbewusst wurde erstmals als ein Projekt der BUNDjugend gegründet – damals vor dem Hintergrund, wieder in Deutschland ankommenden Freiwilligen des Programms weltwärts die Option zu geben auch im Heimatland aktiv zu bleiben. Damals wurde WELTbewusst von weltwärts organisiert und finanziert. Seit 2018 ist diese Struktur gelockert und die WELTbewusst Gruppen vor Ort organisieren sich eigenständig. Zu Weltbewusst.
Speaking English?
You are looking for a group of people who are interested in sustainability? Not only are we interested in it, we are also sharing information on the subject with people who participate in our walks through Tübingen. Besides, you may also improve your German skills with us. We meet every month on the 2nd and 4th Wednesday to discuss our activity and improve together. Interested? Feel free to get in touch, by writing to bildung[at]weltladen-tuebingen[dot]de
Was uns antreibt...
Könnt ihr hier hören. Wir erzählen Euch, warum wir dabei sind.